Metallica - 2003-12-05 - Enough Metal For A Friday Night (Preussag-Arena)
cover
Provided by:
Unknown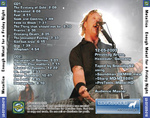 backplate
Provided by:
Unknown
To add images, send an email to
submissions@bootlegcovers.com
or
upload directly
.
Metallica - 2003-12-05 - Enough Metal For A Friday Night (Preussag-Arena)
Preussag-Arena, Hannover, Germany
Setlist: Blackened Fuel Seek and Destroy Fade To Black The Thing That Should Not Be Frantic Creeping Death The Unnamed Feeling Sad But True One Whiplash -------------- Harvester Of Sorrow Nothing Else Matters Master Of Puppets -------------- St. Anger Enter Sandman ------------- Am I Evil? Damage Inc.
---