David Byrne - 1994-05-31 - This Sensuous World (Congress Centrum)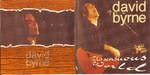 cover
Provided by:
Unknown
backplate
Provided by:
Unknown
To add images, send an email to
submissions@bootlegcovers.com
or
upload directly
.
David Byrne - 1994-05-31 - This Sensuous World (Congress Centrum)
Congress Centrum, Hamburg, Germany
Two known sources: Italian bootleg "The Sensous World" (claimed to be SBD) and an FM. The bootleg source is missing tracks Self Made Man, You And I, Strange Ritual, and Life During Wartime.
Setlist: Long Time Ago Tiny Town God Child My Love is You And She Was This Must Be The Place Crash Lilies Of The Valley Government Sad Song Nothing At All Self Made Man Back In The Box Marching Through The Wilderness Once In A Lifetime Angels You And I Buck Naked Psycho Killer Moonlight In Glory Strange Ritual Life During Wartime
---