Nick Cave & The Bad Seeds - 2004-11-19 - Abattoir Blues Tour 2004 (Falconerteatret)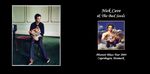 cover
Provided by:
Unknown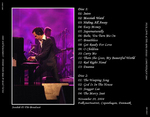 backplate
Provided by:
Unknown
To add images, send an email to
submissions@bootlegcovers.com
or
upload directly
.
Nick Cave & The Bad Seeds - 2004-11-19 - Abattoir Blues Tour 2004 (Falconerteatret)
Falconerteatret, Copenhagen, Denmark
Setlist: Messiah Ward Hiding All Away Easy Money Supernaturally Babe, You Turn Me On Breathless Get Ready For Love O Children Carry Me There She Goes, My Beautiful World Red Right Hand Deanna The Weeping Song God Is In The House Stagger Lee The Mercy Seat * This is what was broadcast. Full tracklisting unknown.
---